SCHOOL OF MEDICINE AND GENERAL SURGERY
Accreditation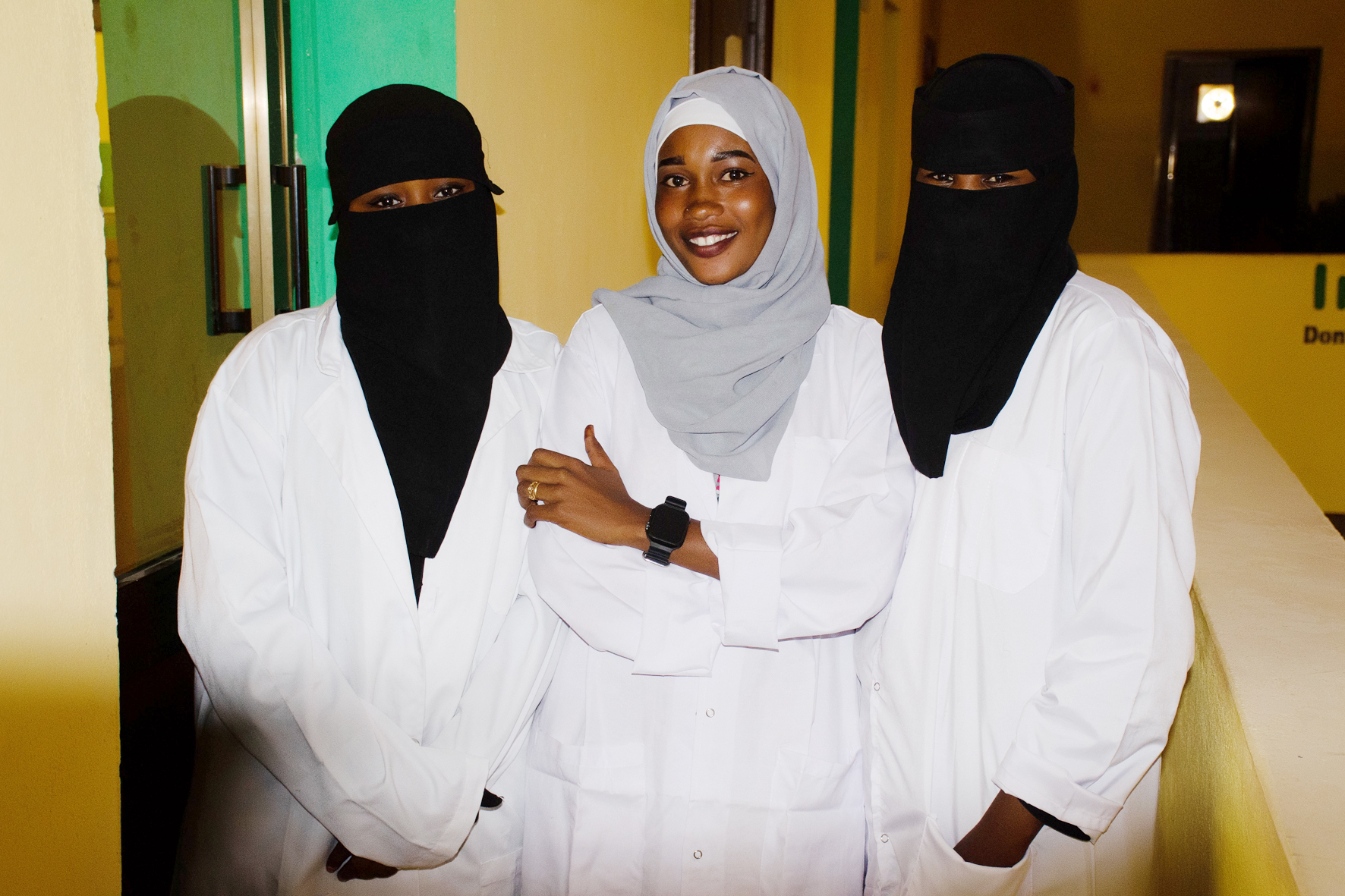 Welcome to The School of Medicine at Subsaharan University College
The program is designed to achieve the following goals
Sub-Saharan College offers a five-year undergraduate medical program. The curriculum is based and distributed over ten semesters. The graduates will be awarded MBBS degrees to practice as general practitioners.
The main goal of medical education efforts is the improvement of people's health status. With the global notion of ensuring excellence in medical practice and medical education, a growing interest is increasingly driven towards proper planning of medical schools' curricula.
The program is designed to achieve the following goals:
1. Graduate medical doctors who will be capable to work as part of a multidisciplinary health team for the benefit of the patients & welfare of the community.
2. Participate in the continuous professional development of the doctors in the Darfur states.
3. Design programs and implement interventions to participate in community development in both urban and rural areas.
4. Participate in the development of the community by designing health campaigns, health days, and collaborative projects with the local community leadership.
5. Promote research in the field of medical-surgical nursing that will provide the best evidence for practice.
6. Work with the Ministry of Health, & other relevant sectors to identify the nursing health problems in the community.
7. Improve the students' abilities of publication to enrich the relevant medical knowledge.
8. Adopts the best evidence-based in the college & nursing practice
Program Vision, Mission & Values
Vision: Our vision is to become a center of excellence for quality education, research & community services.
Mission: The mission of the Sub-Saharan Medicine program is to prepare physicians who would be able to meet and respond to the changing healthcare needs and expectations of the Sudanese Community and the international community at large. We also exist to serve our community and contribute to the knowledge of generation through engagement in research activities.
Core Values
1. Equity
2. Innovation
3. Interdisciplinary teamwork
4. Partnership.
5. Collaboration.
The curriculum is based on the following principles:
 Relevance to health and social needs of society and national aspirations.

Longitudinal implementation of Community Medicine courses

Active student participation & independent learning.

Continuous formative & summative evaluation of learning.

The emphasis on the scientific method & critical thinking.

Continuing education & life-long learning

Maintenance of religious, cultural & ethical values of the society.
MBBS Graduates
The main goal of the MBBS educational program is to graduate medical doctors who possess attributes that will ensure competence to practice safely and effectively as practitioners in the local community, Sudan & abroad.
The graduates of the medicine program, at Sub-Saharan College, must have a strong foundation of the scientific basis of medicine essential for lifelong learning and further training in any specialty and competencies guided by recommendations of EMRO/WHO based on WFME recommendations.
Specific outcomes incorporating knowledge, practical skills, critical thinking, and professional attitudes.
A. Knowledge
1- Describe & explain the normal structure and function of the body
2- Explain the molecular, biochemical, and cellular mechanisms that are important in maintaining the body's homeostasis
3- Outline the various causes (genetic, developmental, metabolic, toxic, microbiologic, autoimmune, neoplastic, degenerative, and traumatic) of maladies and how they operate on the body (pathogenesis)
4- Comprehend the altered structure and function (pathology and pathophysiology) of the body and its major organ systems  in various diseases and conditions
5- Recognize the power of the scientific method in establishing the causation of disease and efficacy of traditional and non-traditional therapies
6- Apply detailed knowledge for those conditions that require urgent assessment, intervention, and treatment.
7- Describe and interpret the theoretical basis of the common diagnostic procedures imaging & laboratory tests, their uses, limitations & interpretation & basic diagnostic procedures.
8- Apply the principles of epidemiology, biostatistics, health education, disease prevention, and screening.
9- Comprehend the concepts & principles of dealing with suffering and disability, rehabilitation, and the care of the dying. (palliative care )
10- Explain the factors affecting human relationships, the psychological well-being of patients and their families, and the interactions between humans in a multicultural society with their social and physical environment.
11- Acquire knowledge of the most frequent clinical, laboratory, X-ray, and pathologic manifestations of common maladies
12- Describe the systems of provision of health care  advantages and limitations, and the principles of efficient and equitable allocation of resources.
13- Recognize the diverse factors that influence health, disease, disability, and access to care of patients.
B. Skills
1. To obtain an accurate medical history that covers all essential aspects of the history, including issues related to age, gender, and socio-economic status
2. To perform both a complete and an organ system-specific examination, including mental status examination
3.  To attend and/or to participate perform routine technical procedures in the skill lab including at a minimum venipuncture, inserting an intravenous catheter, arterial puncture, thoracentesis, lumbar puncture, inserting a nasogastric tube, inserting a foley catheter, and suturing lacerations
4.  Interpret the results of commonly used diagnostic procedures
5.  Diagnose and manage cases of endemic and epidemic diseases, and other health problems prevalent at the level of the individual, family, or society, with special emphasis on the nutritional and environmental problems common in developing countries, and plays an active role in health promotion.
6.  Apply the reasoning skills deductively in solving clinical problems
7.  Construct appropriate management strategies (both diagnostic and therapeutic) for patients with common conditions, both acute and chronic, including medical, psychiatric, and surgical conditions, and those requiring short- and long-term rehabilitation
8. Integrate basic, community, and clinical sciences in solving community, family, and individual health problems.
9.  Use scientific knowledge in the diagnosis and management of health problems, according to known methods of problem solving and integration, and explains the scientific structural (anatomical), functional (physiological, biochemical), morbid (microbiological, pathological), and therapeutic (pharmacological) background related to the problems.
10.  Manage emergencies, and decide and act properly on cases needing referrals to specialized centers or personnel
11.  Recognize and outline patients with immediately life-threatening cardiac, pulmonary, or neurological conditions regardless of etiology, and institute appropriate initial therapy
12. Participate in outbreaks & disaster management
13.  Deal with medico-legal aspects of patient care
14.  Manage the common diseases: in particular diseases of childhood & common tropical diseases, including nutritional pharmacological, physical, and psychological therapies.
15.  Manage and follow the normal & abnormal pregnancy and childbirth, the more common obstetrical emergencies, the principles of (pre-conceptual) antenatal prenatal postnatal care, and medical aspects of family planning.
16.  Involve patients and families in the prevention and management of illness
17.. The ability to use information technology as an essential resource for modern medical practice & continuing professional development.
18.  Search, collect, organize, and interpret health and biomedical information from different databases and sources.
19. Critically evaluate medical information and its sources to identify and clearly define a problem situation
20. To interpret scientific evidence, and use libraries and other information resources to pursue independent inquiry relating to medical problems and public health issues.
21.  To apply the principles of the scientific method within evidence-based medicine to help in writing and / or appraising a scientific article for publication
C. Attitudes
1- Observe in his practice the principles of ethics & cultural values related to health care in our community setting, the principles of forensic medicine and the legal responsibilities of the medical profession.
2- Respect for community values, including appreciation of background and cultural diversity and sexual and gender boundaries
3- Recognition that doctors' primary professional responsibilities are the health interests of the patient and the community.
4- Taking prompt action in emergency situations and appreciation of the need to refer the patient for attention of others when a clinical problem exceeds his capacity to deal with it safely and efficiently
5- Adopt the health systems approach that maximizes patient safety and equitable, cost-effective optimal patient care
6- Commitment to the responsibility of maintaining standards of medical practice at the highest possible level in health care institutions.
7- Participate effectively and appropriately as part of a multi-professional healthcare team capable of its leadership ensuring both effectiveness and homogeneity among the members.
8- Commitment to the responsibility to contribute to the education of junior colleagues & other members of the health team.
9- Commitment of the doctor to take care of their own health & wellbeing.
10- Communicate clearly, considerately and sensitively with patients and their families, doctors, nurses, other health professionals and the general public
11- Create a climate of confidence & rapport with patients and relatives for taking an accurate, organized and focused medical history.
12- Counsel patients sensitively and effectively and to provide information in a manner that ensures patients and families can be fully informed when consenting to any procedure.
13- Communicate with patients and their families, and to involve them fully in the management plan.
14- Demonstrate presentation and communication skills that can be applied to various teaching encounters and formats
15- Acquire the skills of writing a medical report about the referred cases
16- Acquire the skills of appropriate ethical counseling and advices in breaking news to the patients or their relatives in the different critical cases or conditions.
Curriculum structure and organization
The duration of study for the MBBS is five years divided into 10 semesters of 19 weeks each. The curriculum consists of three phases: The courses will be implemented in blocks.
PHASE I:
Extends from semester I to semester 1V. During this phase the main emphasis is on the scientific basis of medicine & early introduction to issues of community health.
PHASE II:
Consists of semesters V&VI Studies during this phase consist of Para clinical disciplines that deal with the pathogenesis of disease, community medicine, and basic clinical and communication skills.
PHASE III:
Extends from semesters VII to semester X. This phase consists of clinical studies mainly through the clinical clerkships, introduction to the clinical specialties & integration of diagnostic & related Para clinical subjects. The emphasis is on general practice and primary health care.